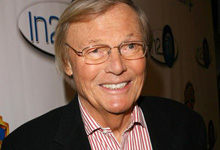 William West Anderson (September 19, 1928 - June 9, 2017) better known by his stage name Adam West, was an American actor. He was best known for playing the title on the Batman 1960s television series.
He parodied that role in the Animaniacs cartoon "Boo Wonder". He might mostly be recognized today as the voice of his namesake, Mayor Adam West, on Family Guy, he also plays himself and "Catman" on Nickelodeon's The Fairly OddParents and also does the voice of young Mermaid Man on Nickelodeon's hit TV show, Spongebob Squarepants.
Ad blocker interference detected!
Wikia is a free-to-use site that makes money from advertising. We have a modified experience for viewers using ad blockers

Wikia is not accessible if you've made further modifications. Remove the custom ad blocker rule(s) and the page will load as expected.