Pinky:'' "Gee, Brain, what do you want to do tonight?"
Brain:'' "The same thing we do every night, Pinky, try to take over the world!"
--Pinky and the Brain's famous exchange at the start of the opening theme.

The Brain is the intelligent megalomaniac mouse that harbors a long-lasting desire to take over the world. He is often annoyed by Pinky's silliness and often thought of complicated plans to take over the world. How ever he notes that since he was really smart that he could make the world a better place.
In You'll Never Eat Food Pellets In This Town Again, Brain has a wife named Sheila who apparently plays Billie. However,this episode was non-canonical and was meant to joke on the WB's petty executives. Brain is heavily based on Orson Welles, in both how he speaks and how he looks. At one point he even tried to copy Orson's infamous radio telling of War of the Worlds.
Character info
Edit
Though he is extremely intelligent, he often misses a fatal flaw or makes a small mistake that causes the plan to completely fail. Though he never admits fault and blames Pinky for his failed attempts at world domination, he genuinely cares for him. There are a few occasions that have been completely out of his control reasons why his plans don't work.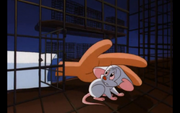 The brain was originally a wild mouse, but was captured at a very young age to ACME and he was put into a cage with Pinky and the two of them grew up together and Brain's trauma caused him to strive for world domination.
The closest he ever got to world domination was the Christmas special, he had managed to use Santa to deliver mind control dolls to every home in the world, however when he was about to give the signal through the dolls the spirit of Christmas overtook him and instead ordered the world to have a merry Christmas.
In Wakko's Wish, he fulfills his desire to rule the world (or at least be in charge of part of it) by being the prime minister. In the end, he plans to take over the world in the sequel. However, there was no sequel to the film.
Personality
Edit
Brain is ill-tempered, self-centered, scheming, angry, sarcastic and deadpan, but he has a heart. He often gets aggravated at Pinky and says he's going to hurt him if he doesn't stop. Brain was based off of famous actor Orson Welles.
Why does he always fail to take over the world?
Edit
All of Brain's attempts to take over the world fail. There is more than one reason for this. These reasons simply consist of three basic reasons. One reason is there might be a flaw in his plan that he forgot to factor and isn't brought up until it's eaither too late to inculde it or Brain realizes the flaw after his plan has blown-up in his face like in the Opportunity Knox, where he forgot that gold is extremely heavy. Reason two is that when the plan involves Pinky, Pinky has a nack for often screwing things up.  An example of this would be in the episode Brain Meets Brawn where Pinky had to apologize for making a mistake.
These first two reasons  were explored by Brain in the episode That Smarts, where he addresses these problems and builds a huge machine that can eiather increase or decrease intellect. Before using it on Pinky, Brain tells Pinky that he has done some reasearch and has found that he is the reason for all of Brain's failurs. After using it on Pinky, Pinky becomes really smart. However, by making Pinky really smart, it changes everything about their relationship and makes it so boring. The relationship between the two mice then becomes strained as Brain tries to find a reason as to why his discovery failed and it was also due to Pinky's belief that Brain didn't like him anymore becuase he became very smart. In the end Pinky reverts himself back to his simple minded ways once he drains his brain and Brain figures out that he, himself is the true reason to blame for his failurs. The last few seconds of the episode show the two mice having turned themslves into dummies by the use of the machine.        
The third reason is that occasionally the problem is neiather of them, but is eiather something or someone else who interfeared with whatever they were doing.