Byron Vaughns
was a staff member for
Animaniacs
.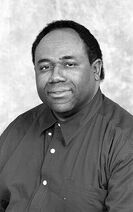 His tenure as an Emmy® award-winning director at Warner Bros. Animation led to a number of various positions at major studios (worked on staff at over ten studios) where he honed his skills in animation from producing, developing, writing concepts/pilots, character designs and storyboarding.
He has storyboarded for theatrical features, direct-to-video features and television (both network & syndication), produced and/or directed or art directed on both traditional 2-D and CGI animation.
Directing credits
More info about Byron Vaughns:
Ad blocker interference detected!
Wikia is a free-to-use site that makes money from advertising. We have a modified experience for viewers using ad blockers

Wikia is not accessible if you've made further modifications. Remove the custom ad blocker rule(s) and the page will load as expected.