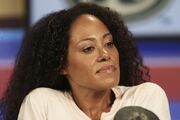 Cree Summer Francks (Professionally known as Cree Summer) (born July 7, 1969) is a Canadian actress, voice actress, and singer. Among her best known credits include Penny Gadget in Inspector Gadget, Princess Kneesaa in Star Wars: Ewoks, Susie Carmichael in Rugrats, Foxxy Love in Drawn Together, and Elmyra Duff in Tiny Toon Adventures, Animaniacs and, most infamously, Pinky, Elmyra and the Brain.
Her appearances in Animaniacs are "The Tiger Prince" where she sings "The Surprises In Life",and  Lookit the Fuzzyheads", "A Hard Day's Warners", and The Warners' 65th Anniversery Special" as Elmyra.
Roles
Ad blocker interference detected!
Wikia is a free-to-use site that makes money from advertising. We have a modified experience for viewers using ad blockers

Wikia is not accessible if you've made further modifications. Remove the custom ad blocker rule(s) and the page will load as expected.