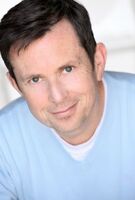 David Kaufman (born July 23, 1961) is an American-born actor.
Kaufman began acting at a young age in his hometown of St. Louis, Missouri, when his kindergarten teacher handed him the plum lead role of Santa Claus in the class Christmas play. Kaufman's father is Jewish and his mother is Catholic. Kaufman is the one of five children and is the older brother of actor Adam Kaufman, and also has a sister, a stepbrother and a stepsister.
At the age of 18, Kaufman set out from St. Louis, Missouri to attend UCLA's Department of Theatre Arts. Since that time, Kaufman has studied and worked extensively as a professional actor in films and television.
Kaufman lives in Los Angeles with his wife, actress Lisa Picotte, their daughter Gracie, and their son Henry Oliver.
Animaniacs roles
Steven Seagull
- Miami Mama-Mia/Pigeon on the Roof (1994) ... Steven Seagull (voice)
External links
Ad blocker interference detected!
Wikia is a free-to-use site that makes money from advertising. We have a modified experience for viewers using ad blockers

Wikia is not accessible if you've made further modifications. Remove the custom ad blocker rule(s) and the page will load as expected.