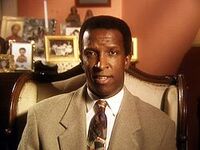 Harewood first attracted attention for his portrayal of Simon Haley (father of author Alex Haley) in the ABC miniseries Roots: The Next Generations. He is known for his roles in Full Metal Jacket, for starring as Jesse Owens in The Jesse Owens Story, and for his co-starring role in the ABC Television series Strike Force (starring Robert Stack). In 1994, he was awarded the NAACP Image Award for Outstanding Actor in a Drama Series, Mini-Series or Television Movie, for his recurring role as jazz/blues saxophonist Clarence "Cool Papa" Charleston on the NBC drama series I'll Fly Away. In 1995, he co-starred in the Warren Chaney docudrama, America: A Call to Greatness.[1][2] In 2012, he is an announcer for NBC.[3] He also played Dr. Julian Wilkes in the NBC (later syndicated) TV series Viper.
---
Animaniacs
(TV Series)
Spike Lee / Danny Glover
- Taming of the Screwy (1993) ... Spike Lee / Danny Glover (voice)
Ad blocker interference detected!
Wikia is a free-to-use site that makes money from advertising. We have a modified experience for viewers using ad blockers

Wikia is not accessible if you've made further modifications. Remove the custom ad blocker rule(s) and the page will load as expected.