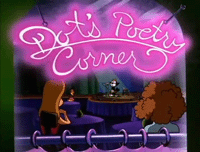 Dot's Poetry Corner is a recurring segment of the first two seasons of Animaniacs. In the short segment, Dot recites her own interpretations of nursery rhymes or well-known poems at a coffee shop. In the final segment, she recited an original poem that she wrote herself in the style of "This Is the House That Jack Built", but gets booed by the audience and loses the TV viewers' interest.

Ep19-"Little Miss Muffett."
Eq27-"There Was an Old Woman Who Lived in a Shoe". - "Fuzzy Wuzzy".
Ep39-"Jack Be Nimble".
Ep39-"This Little Piggy"
Eq61-"Jack Sprat".
Eq61-"30 Days Hath December".
Eq64-"Old King Cole".
Eq64-"Beans Beans, the Musical Fruit".
Eq66-"I'm a Little Teapot".
Eq66-"Roses are Red".
Eq66-"The Poem That I Wrote".

Trivia
The street signs at the beginning have the names Ising and Noble on them. Ising is a reference to Rudolf Ising, one of the earliest animators at Warner Bros. who co-created the character of Bosko, and Noble is Maurice Noble, a layout artist and background artist at Warner Bros. Animation who worked for Chuck Jones' unit.
Ad blocker interference detected!
Wikia is a free-to-use site that makes money from advertising. We have a modified experience for viewers using ad blockers

Wikia is not accessible if you've made further modifications. Remove the custom ad blocker rule(s) and the page will load as expected.