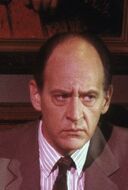 Earl Boen is an actor. Veteran character actor Earl Boen was born on November 7, 1945 in New York City. He is probably best known for his role as criminal psychologist Dr. Peter Silberman in the Terminator series. Other films which he appeared include Battle Beyond the Stars (1980), The Man with Two Brains (1983), Alien Nation (1988), Naked Gun 33 1/3: The Final Insult (1994) and Nutty Professor II: The Klumps (2000). Boen retired from screen acting in 2003, but continues his work as a voice actor in radio, animated series and video games.
Animaniacs roles
- Gimme the Works/Buttons in Ows/Hercules Unwound (1995) ... Zeus (voice)
Ad blocker interference detected!
Wikia is a free-to-use site that makes money from advertising. We have a modified experience for viewers using ad blockers

Wikia is not accessible if you've made further modifications. Remove the custom ad blocker rule(s) and the page will load as expected.