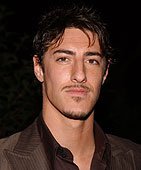 Eric Salter Balfour (born April 24, 1977) is an American actor and singer. He is the lead singer of Born As Ghosts, formerly known as Fredalba. His best known roles include Milo Pressman on the action-thriller TV series 24 and Duke Crocker in the supernatural series Haven.
Animaniacs roles
Jared
- I'm Mad/Bad Mood Bobby/Katie Ka-Boom: The Blemish/Fake (1994) ... Jared (voice)
- We're No Pigeons/Whistle Stop Mindy/Katie Ka-Boom: The Broken Date (1994) ... Jared (voice)
Ad blocker interference detected!
Wikia is a free-to-use site that makes money from advertising. We have a modified experience for viewers using ad blockers

Wikia is not accessible if you've made further modifications. Remove the custom ad blocker rule(s) and the page will load as expected.