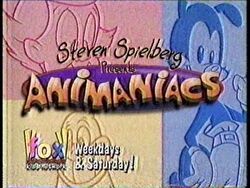 Fox Kids was the Fox Broadcasting Company's children's programming division and brand name from September 8, 1990 until September 7, 2002. It was owned by Fox Television Entertainment airing programming on Monday–Friday afternoons and Saturday mornings.
Fox Kids is notable as the network on which Animaniacs was first broadcast, airing there from its premiere on September 13, 1993, until the fall of 1995, after which the show moved to Kids' WB!
Ad blocker interference detected!
Wikia is a free-to-use site that makes money from advertising. We have a modified experience for viewers using ad blockers

Wikia is not accessible if you've made further modifications. Remove the custom ad blocker rule(s) and the page will load as expected.