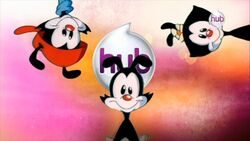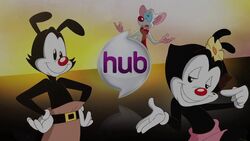 The Hub Network (originally named The Hub until September 2013) was an American digital cable and satellite television channel that ran from October 10, 2010 to October 12, 2014. The channel, which replaced Discovery Kids, was a joint venture of Discovery Communications, Inc. and Hasbro. It targeted a dual audience, young children in the daytime with children's programs, and families at night with sitcoms, dramas and feature films. While much of its programming consisted of acquired reruns of children's programming and sitcoms, it was also known for its original programs such as Transformers: Prime, Dan Vs., and most notably, My Little Pony: Friendship is Magic.
Wakko's Wish was broadcast on the channel in November 2012 as a Hub family movie. Jess Harnell reprised his role as Wakko in a promo for the film. The Hub later announced that they would be airing reruns of Animaniacs, starting with a four-hour marathon on December 24th and the show officially joining the network's line-up on January 7, 2013. Special dialogue was provided by Rob Paulsen, Tress MacNeille, and Jess Harnell, reprising their roles as the Warners, for promos announcing the show's inclusion.
On October 13, 2014, the Hub Network was replaced by Discovery Family. Animaniacs was a new show from the channel's schedule shortly afterward, but was inexplicably removed from the lineup in place of educational programs. Despite this, Tiny Toons still airs, even though Animaniacs had more educational segments.
External links