King Salazar
Comment

1
448pages on
this wiki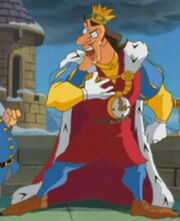 King Salazar is the main antagonist of Wakko's Wish.
He invaded Acme Falls after he becomes king following the death of King William the Good.
Salazar wanted to touch the wishing star first but when he realizes the the Yakko, Wakko, and Dot were still alive, he arrested Thaddeus Plotz and Ralph.
In the end, Wakko runs to the wishing star and brings peace to Acme Falls. After the Warners discovered they were of royal birth, Salazar was kicked out of the kingdom (literally) and attacked by his own dogs. It is unknown if he was killed or not.