Lainie Kazan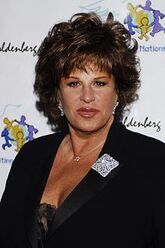 Kazan was born Lanie Levine in Brooklyn, New York City,[1] the daughter of a Russian Ashkenazi Jewish father who worked as a bookie and a Turkish Sephardic Jewish mother, Carole, whom Kazan has described as "neurotic, fragile and artistic."[2][3] Kazan graduated from Hofstra University, located in Hempstead, New York. She was married to Peter Daniels in 1971. In a segment of Celebrity Ghost Stories she revealed that she was widowed in 1989 when he died of lung cancer.Template:Episode 59 She has one daughter named Jennifer from that marriage, and is a grandmother. She serves on the boards of the Young Musicians' Foundation, AIDS Project LA, and B'nai Brith.
Animaniacs (TV Series)
Molly
- Miami Mama-Mia/Pigeon on the Roof (1994) ... Molly (voice)
Ad blocker interference detected!
Wikia is a free-to-use site that makes money from advertising. We have a modified experience for viewers using ad blockers

Wikia is not accessible if you've made further modifications. Remove the custom ad blocker rule(s) and the page will load as expected.