Michael Villani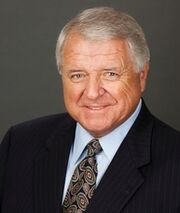 Michael Villani is an actor/voice over artist in Los Angeles. He co-starred with Robert Redford and Michelle Pfeiffer in Up Close & Personal (1996) was featured in Volcano (1997) with 'Tommy Lee Jones' and Wag the Dog (1997) with 'Robert DeNiro' and 'Dustin Hoffman'. He co-starred as Merv Griffin in the Milos Forman film, Man On The Moon (1999), the Andy Kaufman story, starring Jim Carrey. As well as appearing in Jim's blockbuster Bruce Almighty (2003). He was also featured in The Girl Next Door (2004), and can be seen with Jamie Fox and Beyoncé Knowles in Dreamgirls (2006).
Mike is the announcer for the Hollywood Film Festival and was the venue announcer for Indoor Volleyball at the '04 Olympics in Athens, Greece and in the same capacity in the summer of '08, at the Olympics in Beijing, China. He will be going to Vancouver for the Winter Olympics in 2010, as the venue announcer for Figure Skating.
Commercially, Mike was the national spokesman for DiTech.com for eleven years and the international "voice" for Warner Brothers Television, just to name a few of his many credits. Mike is also the Master of Ceremonies for many charitable events and golf tournaments in and around Southern California.
Ad blocker interference detected!
Wikia is a free-to-use site that makes money from advertising. We have a modified experience for viewers using ad blockers

Wikia is not accessible if you've made further modifications. Remove the custom ad blocker rule(s) and the page will load as expected.