Mr. Ka-boom is Katie Ka-Boom's father. He usualy causes some situations where Katie gets mad (Katie Ka-boom: Call Waiting) and tries to calm her down. 
He has brown hair and wears a blue shirt and brown pants. He is voiced by
Rob Paulsen
, most famous on the show for his role as
Yakko
. Based on the appearance on mannerisms of Mr. Ka-boom, it is strongly suggested he was modeled after actor James Stewart, in particular his role as George Bailey from
It's a Wonderful Life
.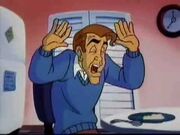 Ad blocker interference detected!
Wikia is a free-to-use site that makes money from advertising. We have a modified experience for viewers using ad blockers

Wikia is not accessible if you've made further modifications. Remove the custom ad blocker rule(s) and the page will load as expected.