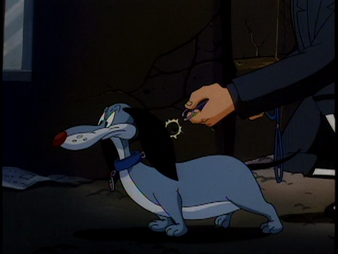 Newt is a professinal hunting dachshund who appeared in the first Minerva Mink cartoon Meet Minerva. He also appears in a non-speaking role as Schnappsie, the Nazi guarddog in "Puttin' on the Blitz". He is voiced by Arte Johnson, who is best known for his time on Laugh-In, where he plays a German soldier who says, "Very interesting."
Appearance
Newt is a grey fur dachshund with long floppy black ears and a red nose.
Episodes
History
Gallery
Ad blocker interference detected!
Wikia is a free-to-use site that makes money from advertising. We have a modified experience for viewers using ad blockers

Wikia is not accessible if you've made further modifications. Remove the custom ad blocker rule(s) and the page will load as expected.