Rita
is a feisty, independent, and lovely gray and white cat who is often seen singing. She accompanies her best friend, 
Runt
on their adventures to find a home together. She is first seen in Episode 7: "Piano Rag / When Rita Met Runt" after her owner sends her to the pound for being "too independent."
Personality
Rita is a tough, independent, funny, aloof, intelligent, and sarcastic cat. However, this is a front masking a soft side of her that really longs for affection. This side of her is shown in numerous episodes, such as "Smitten With Kittens". She is often frustrated by Runt's dimwittedness, at first treating him with disdain and stating that once they found a home, she would leave and he was on his own, but gradually warms up to him throughout the episodes, even giving him a kiss on the head in one episode, and displaying relief in seeing him when she is captured by a chef. Her affection for Runt extends to when she is taken by a girl onto a train to live in a beautiful home, she jumps off when Runt is attacked by another dog before he can get onto the train, and she beats the stuffing out of the other dog, going on to tell Runt she has grown fond of him and she will never go anywhere without him, that they would find a home together  or not find one at all. 
Her voice was provided by actress and singer, Bernadette Peters.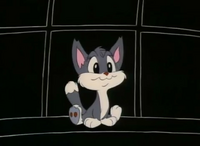 Credits
In the credits, Rita is in last place like this
"And Bernadette Peters as Rita"
Appearances
Rita appears in 13 Episodes:
Appearances

| | |
| --- | --- |
| Episode 7 | "Piano Rag / When Rita Met Runt" |
| Episode 11 | "No Pain, No Painting / Les Miseranimals" |
| Episode 17 | "Roll Over, Beethoven / The Cat and the Fiddle" |
| Episode 25 | "Hercule Yakko / Home on De-Nile / A Midsummer Night's Dream" |
| Episode 29 | "Draculee, Draculaa / Phranken-Runt" |
| Episode 31 | "O Silly Mio / Puttin' on the Blitz / The Great Wakkorotti: The Summer Concert" |
| Episode 35 | "Very Special Opening / In the Garden of Mindy / Pinky and the Cat / No Place Like Homeless / Katie Ka-Boo / Baghdad Cafe" |
| Episode 39 | "Smitten With Kittens / Alas Poor Skullhead / White Gloves" |
| Episode 43 | "Of Nice and Men / What a Dump / Survey Ladies" |
| Episode 44 | "Useless Facts / The Senses / The World Can Wait / Kiki's Kitten" |
| Episode 48 | "Mobster Mash / Lake Titicaca / Icebreakers" |
| Episode 57 | "Of Course, You Know This Means Warners / Up a Tree / Wakko's Gizmo" |
| Episode 62 | "Scare Happy Slappy / Witch One / MacBeth" |
Quotes
"Humans ain't what they seem to be, they don't mean that much to me."
-Humans Ain't What They Seem To Be; Episode 7: "Piano Rag / When Rita Met Runt"
(Runt asks what Rita is 'in for') "Same as always, being too hip for the room."
-Episode 7: "Piano Rag / When Rita Met Runt"
-Episode 7: "Piano Rag / When Rita Met Runt"
Gallery
---
---
Rita's Songs
In nearly every episode she appeared in Rita has sung.
When Rita met Runt: Humans Ain't What They Seem to Be
Les Miseranimals: Flat in Gay Paree (parody of Castle on a Cloud), Rita and Runt (parody of Red and Black), That Hole is Much Too Small (parody of A Little Fall of Rain), At the End of the Road (parody of At the End of the Day)
The Cat and the Fiddle: A Place Called Home, A Place Called Home (Reprise)
Home on De-Nile: All Wrapped Up in Love
Phranken-Runt: Let's Try For Two, You Gotta Use Your Brain, Let's Try For Three
Puttin' on the Blitz: We'll Be Together, Reconciled,We'll Always Be Together
Pinky and the Cat: None
Smitten With Kittens: I'm Nobody's Mama
Of Nice and Men: Monterey, Stereotypical View
Kiki's Kitten: Miao
Icebreakers: Florida, Cats Always Get the Short End of the Stick, I'll Go It Alone
Up a Tree: Corn, Dizzy, Is This My Destiny?
Witch One: There's Nothing Quite Like a Cat, Still There's Me and You
In Wakko's Wish, Rita sung in Never Give Up Hope, Train Bringing Wakko, So Much For Wakko's Ha'penny, The Wishing Star (The Wish Belongs To Me), and If I Could Have My Wish