Rita and Runt
Comments

5
641pages on
this wiki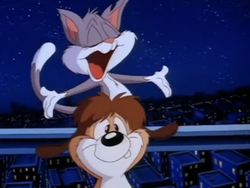 Rita and Runt
are two homeless characters who almost always appear together.
Rita
, voiced by
Bernadette Peters
, usually sings some songs while dim-witted
Runt
, voiced by
Frank Welker
, listens. Throughout their journey in life, the vagabond pair have many exciting adventures during the segment. Despite having a desire to find a nice permanent new home, the two manage to live quite comfortably by offering each other a close unbreakable friendship in defending one another for protection and giving moral support.
Episodes
Piano Rag/When Rita Met Runt
No Pain,No Painting/Les Miseranimals
Roll Over,Beethoven/The Cat and the Fiddle
Disasterpeice Theater/Hercule Yakko/Home on De-Nile/A Midsummer's Night Dream
Draculee,Draculaa/Phrankenrunt
O Silly Mio/Puttin' on the Blitz/The Great Wakkorotti: The Summer Concert
Smitten with Kittens/Alas Poor Skullhead
Mobster Mash/Lake Titicaca/Icebreakers
Of Course You Know,This Means Warners/Up A Tree/Wakko's Gizmo
Scare Happy Slappy/Witch One/Macbeth