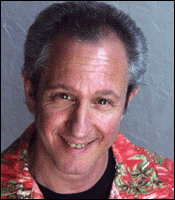 Animation Program Director Associate Professor
Ron Fleischer received his B.A. from Columbia College Chicago in 1984 and has worked professionally in the animation industry for over 25 years. Ron was recognized for his contributions to broadcast series animation receiving Emmy recognition for his work on Steven Spielberg's Animaniacs as well various other Warner Brothers television productions. He also served as Technical Director on the feature film The Powerpuff Girls Movie in 2002. His award-winning animated short, Lemmings, has played to worldwide audiences in over 25 festivals and received the Chicago Award at the 40th Chicago International Film Festival. He continues to produce work through his company RonToon, Inc. and is currently in production on his next animated short, A Tooth Tale.
A tenured faculty member and Associate Professor in Cinema Art + Science, Ron is currently the director of the Animation Program coordinating all courses in both Traditional and Computer concentrations. Areas of specialization include traditional animation production, directing, and digital compositing.
Directing credits
Ad blocker interference detected!
Wikia is a free-to-use site that makes money from advertising. We have a modified experience for viewers using ad blockers

Wikia is not accessible if you've made further modifications. Remove the custom ad blocker rule(s) and the page will load as expected.