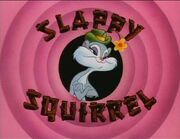 Slappy Squirrel is a segment that features Slappy Squirrel, a grumpy veteran cartoon squirrel, and Skippy Squirrel, her chipper, happy nephew.
Slappy often faces may foes from her past, like Walter Wolf, Sid the Squid and Beanie the Brain-Dead Bison.
They often solve the problems in each segment with exaggerated cartoon violence to help her and her nephew.
Segment Themes
Both themes are sung by Yakko, Wakko, and Dot.
Version 1
The crankiest of creatures in the whole wide world, our next cartoon features Slappy The Squirrel!
Slappy: "Enough with the singing already!"
That's Slappy!
Version 2
She's a cranky old critter, she's bitter, we warn ya, she lives in a tree house in Burbank California, along with her nephew, he says spew, he's cheerful, when his aunt starts to rant, she gives him an earful, she's grumpy, he's happy, it's generation gappy, take a whirl with the squirrels, Skippy and Slappy!
Slappy: "Eh, put a sock in it!"
That's my aunt Slappy!!
Segments
Ad blocker interference detected!
Wikia is a free-to-use site that makes money from advertising. We have a modified experience for viewers using ad blockers

Wikia is not accessible if you've made further modifications. Remove the custom ad blocker rule(s) and the page will load as expected.