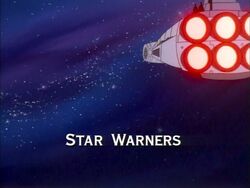 Synopsis
What would happen if Star Wars and Animaniacs were put in a blender? The final Pinky and the Brain episode, Star Warners is the answer. The episode, which includes many of the Animaniacs cast is a Star Wars parody of A New Hope, Empire Strikes Back, and Return of the Jedi with Pinky and the Brain (as 3-PinkEO and Brain2-Me2) plan to use the Mega Star for their galactic domination plans.
Cast
Cameo Characters
Yosemite Sam
Duck Dodgers
Marvin the Martian
Freakazoid
Fanboy
Gossamer
Hugo the abominable snowman
Thumb
Monstars
K-9
Mr. Skullhead
Alien
Egghead jr.
Trivia
This cartoon was rarely seen in reruns.
Like Wakko's Wish, many regular and Looney Tunes characters appear throughout.
Wakko's Luke Skywalker costume looks similar to an outfit he wears in "Hercule Yakko".
If this episode were for the Animaniacs, then this would count as their 100th episode.
Ad blocker interference detected!
Wikia is a free-to-use site that makes money from advertising. We have a modified experience for viewers using ad blockers

Wikia is not accessible if you've made further modifications. Remove the custom ad blocker rule(s) and the page will load as expected.