The Flame is a talking flame on a candlestick. He stars in cartoons that teach about significant events in American history, such as Thomas Jefferson drafting the Declaration of Independence, Henry Wadsworth Longfellow writing "Paul Revere's Ride" and Francis Scott Key writing the poem "Defence of Fort McHenry," which would later be the lyrics to "The Star-Spangled Banner."
The Flame is voiced by Luke Ruegger, one of the sons of creator Tom Ruegger.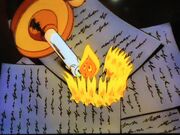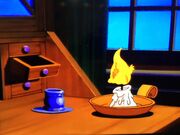 Ad blocker interference detected!
Wikia is a free-to-use site that makes money from advertising. We have a modified experience for viewers using ad blockers

Wikia is not accessible if you've made further modifications. Remove the custom ad blocker rule(s) and the page will load as expected.