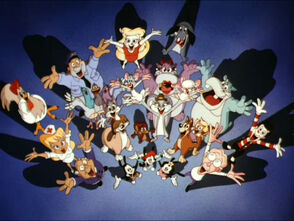 The Theme Song Characters are what fans called the characters who appeared as they say "We're Animaney, Totally Insaney" before one of the Warners say a various line by the end of the opening theme song. They also appear in this line-up at the end of Wakko's Wish.
Theme Song Characters
Ad blocker interference detected!
Wikia is a free-to-use site that makes money from advertising. We have a modified experience for viewers using ad blockers

Wikia is not accessible if you've made further modifications. Remove the custom ad blocker rule(s) and the page will load as expected.