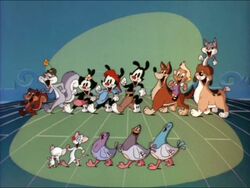 The Animaniacs Theme is, as its title suggests, the song that opens every episode of Animaniacs (with the exception of episodes 65 and 83). The song describes the set-up of the Yakko, Wakko, and Dot's madcap adventures and also introduces several of the other major characters on the show. The theme was composed by the late great Richard Stone and the lyrics by creator Tom Ruegger. It has 18 languages.
Lyrics
The Warners:
It's time for Animaniacs!
And we're zany to the max!
So just sit back and relax.
You'll laugh 'til you collapse.
We're Animaniacs!
Dot:
And the Warner Sister, Dot!
The Warners:
Just for fun we run
Around the Warner movie lot.
They lock us in the tower
Whenever we get caught.
But we break loose
And then vamoose
And now you know the plot.
We're Animaniacs!
Dot is cute and Yakko yaks,
Wakko packs away the snacks
While Bill Clinton plays the sax. (Season 1)
We've got wisecracks by the stacks. (Season 2)
We pay tons of income tax. (Seasons 3-5)
We're Animaniacs!
Meet Pinky and the Brain
Who want to rule the universe. (Seasons 1-2, sporadically in Seasons 3-5)
Meet Ralph and Dr. Scratchansniff,
Say hi to Hello Nurse. (Seasons 3-5)
Goodfeathers flock together,
Slappy whacks them with her purse.
While Rita sings a verse.
The writers flipped,
We have no script!
Why bother to rehearse?
All:
We're Animaniacs!
We have pay-or-play contracts!
We're zany to the max!
We're Animani-
Totally insane-y!
(Variable verse)
An-i-man-i-acs!!!!
Those are the facts!
Variable Line
This line is the third to last line in the theme song. It is always different depending on the show number. They are in the order that they first appeared on the show. In season 2, the variable verse in all the episodes was "here's the show's name-y".
Characters
The following characters appear in the main title: Yakko Warner, Wakko Warner, Dot Warner, Dr. Scratchansniff, Ralph the Guard, President Bill Clinton, Albert Einstein, Thaddeus Plotz, Dracula, Ludwig von Beethoven, Bob Hope, Pinky, the Brain, Bobby, Squit, Pesto, Slappy Squirrel, Mindy, Buttons, Runt, Rita, Skippy Squirrel, Chicken Boo, Hello Nurse, Newt, Minerva Mink, Marita, Flavio, The Mime
The three people in the "xylophone" line next to Bob Hope appear to be the Three Stooges: Larry Fine, Curly Howard, and Moe Howard. (Look for Moe's hair as the giveaway).
One of the "writers" looks like William Shakespeare.
Other versions
Trivia
Meet Pinky and the Brain
Who want to rule the universe.
There's Skippy and there's Slappy
And say hi to Hello Nurse.
Languages
"Animaniacs" is translated into other languages as follows:
Arabic- الضاحكون
Bulgarian- Аниманиаци
Catalan- Animaníaco (possibly)
Chinese- 狂欢三宝
Croatian- Animaniacs
Czech- Animaci
Danish- De Animaniacs
Dutch- Animaniacs
English- Animaniacs
Finnish- Animaaniset
French- Les Animaniacs
Greek- Ανιμανιακς
German- Animaniacs
Hebrew- אנימניאקס
Hungarian- Animánia
Italian- Animaniacs
Japanese- アニマニアックス
Korean- 애니매니악스
Latin America- Animanía or Animaniacs
Portuguese- Os Animaníacs
Polish- Animaniacy
Romanian- Animaniacii
Russian- Озорные Анимашки
Spanish- Animaníacs
Ukrainian- Мультиманія