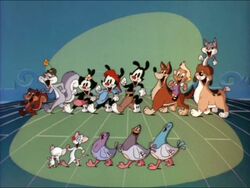 The Animaniacs Theme is, as its title suggests, the song that opens every episode of Animaniacs (with the exception of episodes 65 and 83). The song describes the set-up of the Yakko, Wakko, and Dot's madcap adventures and also introduces several of the other major characters on the show. The theme was composed by the late great Richard Stone and the lyrics by creator Tom Ruegger. It has 18 languages.
Languages
Their names are translated.
Arabic- الضاحكون
Bulgarian- Аниманиаци
Catalan- Animaníaco (possibly)
Chinese- 狂欢三宝
Croatian- Animaniacs
Czech- Animaci
Danish- De Animaniacs
Dutch- Animaniacs
English- Animaniacs
Finnish- Animaaniset
French- Les Animaniacs
Greek- Ανιμανιακς
German- Animaniacs
Hebrew- אנימניאקס
Hungarian- Animánia
Italian- Animaniacs
Japanese- アニマニアックス
Korean- 애니매니악스
Latin America- Animanía or Animaniacs
Portuguese- Os Animaníacs
Polish- Animaniacy
Romanian- Animaniacii
Russian- Озорные Анимашки
Spanish- Animaníacs
Ukrainian- Мультиманія
Lyrics
The Warners:
It's time for Animaniacs!
And we're zany to the max!
So just sit back and relax.
You'll laugh 'til you collapse.
We're Animaniacs!
Dot:
And the Warner Sister, Dot!
The Warners:
Just for fun we run
Around the Warner movie lot.
They lock us in the tower
Whenever we get caught.
But we break loose
And then vamoose
And now you know the plot.
We're Animaniacs!
Dot is cute and Yakko yaks,
Wakko packs away the snacks
While Bill Clinton plays the sax. (Season 1)
We've got wisecracks by the stacks. (Season 2)
We pay tons of income tax. (Seasons 3-5)
We're Animaniacs!
Meet Pinky and the Brain
Who want to rule the universe. (Seasons 1-2, sporadically in Seasons 3-5)
Meet Ralph and Dr. Scratchansniff,
Say hi to Hello Nurse. (Seasons 3-5)
Goodfeathers flock together,
Slappy whacks them with her purse.
While Rita sings a verse.
The writers flipped,
We have no script!
Why bother to rehearse?
All:
We're Animaniacs!
We have pay-or-play contracts!
We're zany to the max!
We're Animani-
Totally insane-y!
(Variable verse)
An-i-man-i-acs!!!!
Those are the facts!
Various Lines
This line is the third to last line in the theme song. It is always different depending on the show number. They are in the order that they first apeared on the show. In season 2,the variable verse in all the episode was "here's the show's name-y"
Dot: Here's the show's name-y
Warners: Pinky and The Brain-y
Dot: Come back, Shane-y
Dot: The rain in Spain-y
Warners: Cockamamie
Dot: Shirley MacLaine-y
Warners: How urbane-y
Yakko: Citizen Kane-y
Yakko: Andromeda Strain-y
Wakko: Where's Lon Chaney?
Yakko: Eisenhower Mamie
Yakko: Miss Cellan-y
Wakko: Chicken Chow Meiny
Yakko: Dana Delany
Warners: Hydroplane-y
Warners: Money down the drain-y
Dot: No pain, no gain-y
Wakko: Penny Lane-y
Yakko: Uhhhhhhhhhh...
Warners: Here's the Flame-y
Dot: Tarzan and Jane-y
Warners: Novocainey
Warners: Meet Mark Twain-y
Yakko: Presidential campaign-y
Wakko: Hunchback of Notre Dame-y
Warners: Bowling lane-y
Yakko: Bangor, Maine-y
Warners: Frasier Crane-y
Warners: Mister Hane-y
Dot: Quiche lorraine-y
Yakko: Lake Champlain-y
Dot: High octane-y
Warners: Public domain-y
Yakko: Candy cane-y
Dot: Nickelaney
Other versions
The Animaniacs game pack has its own version of the theme song with different words describing the game.
There is also a song on the "Yakko's World" album that is the same tune titled "Travelin' maniacs".
An extended version of the theme was used for episode 82 (the third season finale) with an instrumental break and montage of clips from the show. This version was reused again for episodes 84, 94, and 99. It was also released on the Animaniacs soundtrack.
When the show was aired in reruns on Nickelodeon and Nicktoons TV, the song was cut down to less than half of its original length, and the variable lines at the end were all replaced with the newly-made line "Nickelaney". 
Trivia
Meet Pinky and the Brain
Who want to rule the universe.
There's Skippy and there's Slappy
And say hi to Hello Nurse.
New Theme
This theme song doesn't even exist, it's just here for laughs. Pls don't delete this for vandalism. The Warners: It's time for Animaniacs, and this year we're coming back. So sit down and have a seat, our comedy's your treat. It's Animaniacs!
Yakko and Wakko: We are the Warner Brothers.
Dot: My name's Dot, I'm super cute.
The Warners: We have some fun and like to run, we're hardly ever mute. Our comedy's our weapon, it puts bad guys in their place. We yell and pout, then shut them out, drop anvils on their face.
We're Animaniacs! Dot is sweet, Yakko gives flak. Wakko eats your doggie's snacks, while Obama's drones attack, in Animaniacs!
Everyone at the Warner lot is made for comedy. They've been giving laughs and will be giving more for you and me. So you better be prepared. This will definitely be sweet. Are you ready? Are you Freddy for our amazing feat?
Everyone: We're Animaniacs! Are you ready for our comeback? You better bring some snacks, then prep our wisecracks. We're animani-y, totally insane-y
The Warmers: There's no shame-y!
In Animaniacs! Great to be back!