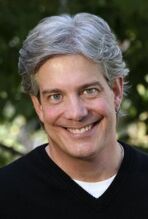 Townsend Coleman
Coleman's career as a voice actor took off in the 1980s when, having recently moved to Los Angeles, he auditioned for the role of Corporal Capeman on Inspector Gadget. In addition to the aforementioned roles, he also portrayed Riot on Jem, Gobo in the animated version of Jim Henson's Fraggle Rock, Scott Howard on the animated Teen Wolf, and many others. In TV commercials, he was the 7-Up "Spot," Keebler Elves, and Raid Bugs. Coleman has also been the voice of NBC commercials for programs such as "Must See TV" and The Tonight Show since the early 1990s. Coleman has also provided the voice for Jason Whittaker on the Focus on the Family radio drama Adventures in Odyssey since 1994. He also voiced the Autobot Mini-Cassette Rewind on the Transformers cartoon series (1986) and provided the voice of 'Colt' in Saber Rider and the Star Sheriffs.
From 1987 to 1996, Townsend Coleman voiced his most popular character; Michelangelo in Teenage Mutant Ninja Turtles.
Coleman performed a wide range of voices in King's Quest VI: Heir Today, Gone Tomorrow, including Vizier Abdul Alhazred, Shamir Shamazel, Lord Azure, Ferryman, Beast, and the Minotaur.
More recently, Townsend is the voice of Sentinel Prime in the Transformers Animated series. The character was designed to look like The Tick, as confirmed by the writers of the show at Botcon 2008. Townsend provided the voice for the title character of The Tick in the 1994 cartoon series, for which, he received an Annie Award nomination.
---
Animaniacs
(TV Series)
Pressberg Katzeneisnerman / Clint Eastwood
- Hooray for North Hollywood: Part 2 (1998) ... Pressberg Katzeneisnerman / Clint Eastwood (voice)
Ad blocker interference detected!
Wikia is a free-to-use site that makes money from advertising. We have a modified experience for viewers using ad blockers

Wikia is not accessible if you've made further modifications. Remove the custom ad blocker rule(s) and the page will load as expected.