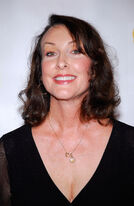 Tress MacNeille (born June 20, 1951 in Chicago, Illinois) is an American voice actress best known for providing various voices on the animated series The Simpsons, Futurama, Tiny Toon Adventure, Animaniacs, Disney's House of Mouse, Chip 'n Dale Rescue Rangers, and Dave the Barbarian. She also played the role and voice of Lucy in "Weird Al" Yankovic's "Ricky", a parody of Toni Basil's "Mickey" .
She does the voices of Dot Warner, Billie, Hello Nurse, Mindy's Mom, Marita Hippo, Miss Flamiel, and several other female characters on Animaniacs and various voice characters
Role(s)
Ad blocker interference detected!
Wikia is a free-to-use site that makes money from advertising. We have a modified experience for viewers using ad blockers

Wikia is not accessible if you've made further modifications. Remove the custom ad blocker rule(s) and the page will load as expected.