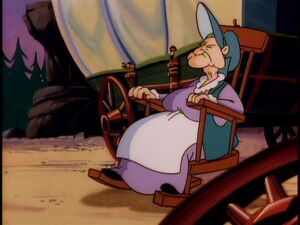 The World's Oldest Woman is a minor character voiced by Tress MacNeille. She first appeared, without a name, in the Chicken Boo segment "Davey Omelette", and later reappeared in the Slappy Squirrel segment "The Christmas Tree". However, she is more prominently known as one of the hosts of Histeria!, where she was given her name.
Ad blocker interference detected!
Wikia is a free-to-use site that makes money from advertising. We have a modified experience for viewers using ad blockers

Wikia is not accessible if you've made further modifications. Remove the custom ad blocker rule(s) and the page will load as expected.